When it comes to a well designed space and creating flow between rooms, the principles of Home Staging are a good source for inspiration!
This sweet little tudor is a great example. As a class project it was perfect! Nice features, but hard to see under a frumpy furniture layout. We came in and re-vamped it for amazing results!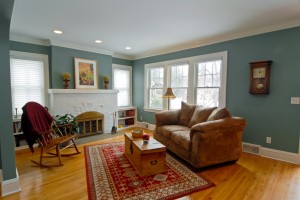 The sofa was originally blocking the view, and there was a large area rug concealing the hardwood floors. Over the mantel, nothing special made the fireplace stand out. We redirected the layout to highlight the fireplace & hardwood floors!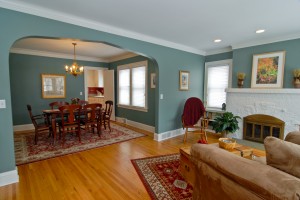 From this view, it is easy to see how open the space looks! The table was repositioned horizontally to create a more proportionate layout. This is the view buyers will see from entering the front door!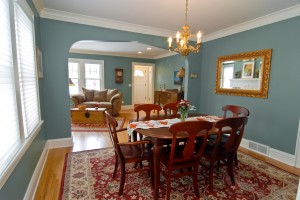 Looking from the dining room to the living room shows you what a difference it made to move the buffet to the living room and reposition it near the front entry. This space previously was bare…and made the entire living room feel off-balance. Moving the buffet out of the dining room also made the dining room look much larger!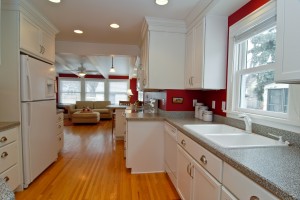 This bright and cheerful kitchen had undergone a recent renovation. It was easy to stage! We just cleaned up the countertops and accessorized!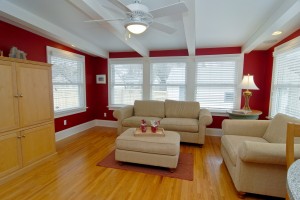 To make the family room feel larger and more user-friendly, we removed an area rug that covered the entire floor, added a sweet little antique table brought in from the living room, and brought in a lamp. The end result was a small addition that felt twice the size!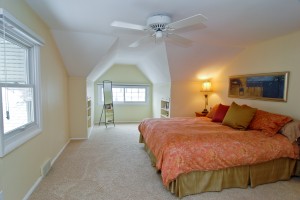 Admittedly, not everyone is going to be a fan of these slanted ceilings! To make it feel more open and airy, we got rid of everything…bins, temporary storage, etc….that was blocking the flow, then added colorful bedding (found in the closet) and colorful artwork (found leaning up against the wall.) to create a more luxurious feel and take away attention from the low ceiling height!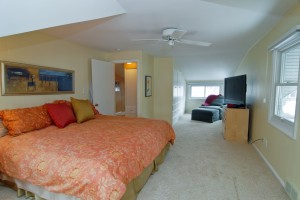 While I am not totally opposed to a TV in the bedroom, we did make it look a little neater by removing the tv stand and using a small dresser, instead. Moving it down the wall a smidge…rather than it's previous spot at the end of the bed…gave buyers room to walk through and visually made the space feel larger. A comfortable chair and ottoman…too boxy and large for the living room…added to the 'master suite' feel!
Want to learn the art of Staging a Home to Sell? We have another 4-Day Workshop coming up in Minneapolis in May, and a 2-Day Workshop coming to New York City in June! Check out our calendar for workshops coming up around the country at www.homestagingexpert.com!