One of the saddest aspects of my job as a Home Staging Expert is the fact that I just meet too many people who've wasted too many good years with a house they didn't love.  Unfortunately, I am usually called in as a last resort, when they've finally given up and decided it's time to move on.  Of course this often walks hand-in-hand with one of the happiest moments for me, as in this case, when the house sells within two-weeks of putting it on the market!  So the sad yet happy truth is…while the former owner could no longer see the potential (until I arrived, that is), the new owner could and was more than happy to make the commitment!  (Click on photos to enlarge!)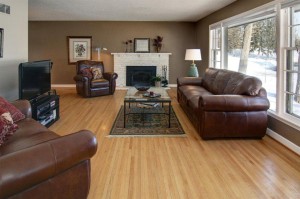 When I arrived, both the sofa and the loveseat were pushed up against the window and the chair was shoved in the back corner, a large rug and heavy wooden coffee table were hiding the floors, the fireplace was buried under clutter, and there was no lighting or artwork to be found!  The entire house looked a little depressing to me…definitely just a house and not a home!  (PS – I found the heavy resin lamp at a yard sale for $2.00, spray-painted it green, and added a new shade!  Does it rock this room, or what?  The perfect touch of color!)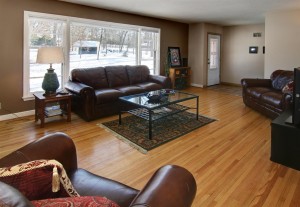 By giving the living room a more pleasing layout, I was able to make the space feel more inviting!  To make the house more welcoming and add a sense of style to the space, I traded out the oversized rug for something less overwhelming, swapped the heavy wood coffee table for a glass table I found on the lower-level, added artwork and throw pillows for color, then balanced out the lighting!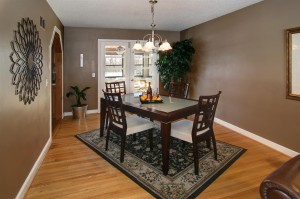 To add a little excitement to this basic dining room, I teamed the larger area rug that had been previously weighing down the living room with the owner's beautiful dining room set and placed them both on an angle.  The fun mirror also belonged to the owner, as well as the greenery.  For a pop of color, a simple centerpiece was created using an embossed bronze tray, lemons, a couple of glasses and a bottle of vino!  🙂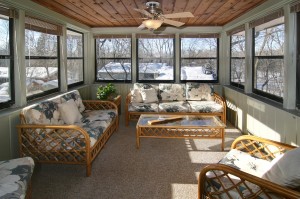 The sunroom was the easiest to stage!  I just got rid of all the clutter and gave the space the most functional layout possible…then added a basket full of happy greenery to draw the buyer's eye through to the furthest corner of the space.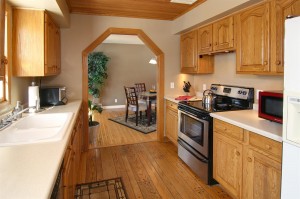 In the kitchen, a new stainless steel stove replaced the one that didn't work and matched the existing stainless steel dishwasher.  (PS – Doesn't the dining room look HOT from this view?)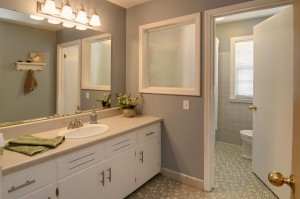 Dated tile floors look  new with a complimentary paint color on the walls!  (So here's a tip…whenever you want to downplay flooring, be it dated tiles or carpeting…a paint color that blends rather than a contrasting color will do the trick!)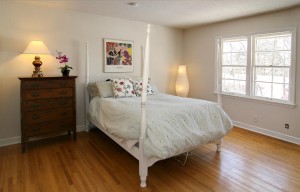 The bedroom was given a neater appearance!  By moving one of two dressers that had previously taken up the far wall, I was able to simplify the look.  Then, a dash of color…in artwork over the bed, with throw pillows on the bed, and a silk orchid on the dresser…gave it just the right amount of 'va-voom' to make it inviting!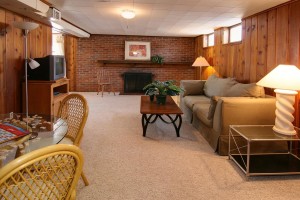 The lower-level family room turned out great!  Flipping the coffee tables made a big difference.  The wooden coffee table made so much more sense down here!  The wood helped balance out those heavy bricks.  And kindly note that scrabble game on the rattan table (moved downstairs from the previously cluttered sunroom)…I spelled out "Buy this house" on the board!
And guess what?  Someone did…in just two weeks!  Did I mention?  🙂
Want to learn how to stage a home for market?  Go to www.homestagingexpert.com and sign up for our Home Staging – Home Study Course!  Only $299.00 and includes a lifetime listing on our website!