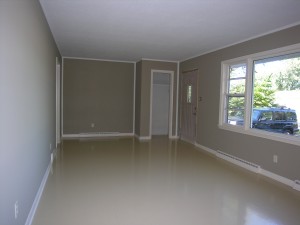 After sanding the floors twice, it was determined they could not be salvaged as originally intended.  However, replacing them at this point…the house had just been purchased and the entire place needed updating to even make it livable…we decided that was not a financial option.  But PAINTING the wood floors was a nice alternative.  (See February 5, 2011 posting on painting wood floors.)
To give the entire room a nice, fresh appearance, the trim was also painted in off white, and the ceilings got a fresh coat, too.  (Use Kilz brand paint to kill odors!)  To make this simple space feel more detailed, the corners and edging around the top and bottom of the wall were also painted the same color as the ceiling.  After drying overnight, the edge was taped off along the perimeter using 1 1/2 inch painter's tape before the walls were painted khaki tan.  (If you don't want to worry about hitting the ceiling with the roller, use 2 inch painter's tape instead.)  The end result gave the room a sense of definition for less.
Watch for "A Rough Rambler Settles Down!" Part III.