In honor of the fabulous little villa in Portugal recently featured in Looking for Love, I thought this recipe might help get you in the mood! Enjoy!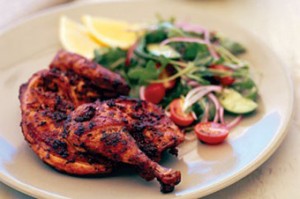 PORTUGUESE-STYLE CHICKEN from www.taste.com.au
2 small fresh or frozen thawed chickens
1/3 cup fresh lemon juice
1/4 cup olive oil
2 tbsp sweet paprika
2 tbsp dried oregano
2 tbsp brown sugar
4 garlic cloves, crushed
1 long fresh red chili, deseeded, finely chopped
1 tsp salt
Freshly ground black pepper
Lemon wedges, to serve
FOR THE SALAD
1 pint red grape tomatoes, washed, halved
1 head bib lettuce leaves, rinsed, drained, torn
1 Lebanese cucumber, halved lengthways, thinly sliced
1/2 red onion, thinly sliced
1/3 cup drained pitted Kalamata olives
2 tbsp olive oil
1 tbsp fresh lemon juice
1 tsp dried oregano
Salt & freshly ground black pepper
Place one chicken, breast-side down, on a clean work surface. Use kitchen scissors or poultry shears to cut down both sides of backbone and discard. Turn chicken, breast-side up, and push down to flatten. Tuck wings under. Pat dry with paper towel. Repeat with the second chicken. Use a knife to make several ¼ inch deep by 1 inch long cuts into chicken meat. Place in a glass or ceramic baking dish.
Combine the lemon juice, oil, paprika, oregano, sugar, garlic, chili and salt in a bowl. Season with pepper. Pour over the chicken and turn to coat. Cover with plastic wrap and place in the fridge for 6 hours to develop the flavors.
Preheat oven to 200°C. Place chicken and marinade in a roasting pan. Roast in oven, basting occasionally with pan juices, for 40 minutes or until brown and juices run clear when chicken is pierced with a skewer. Remove from oven and cover with foil. Set aside for 5 minutes to rest.
Meanwhile, to make the salad, place the tomato, lettuce, cucumber, onion and olives in a bowl. Place oil, lemon juice and oregano in a screw-top jar and shake to combine. Season with salt and pepper. Drizzle over salad and toss. Cut each chicken in half and serve with lemon wedges and salad.