I decided that Valentine's Day was the perfect time to share my favorite fig recipe! Why figs? Because figs were once thought to be an aphrodisiac… and reportedly Cleopatra's favorite food. Many cultures also associate figs with fertility. (Don't say I didn't warn you!)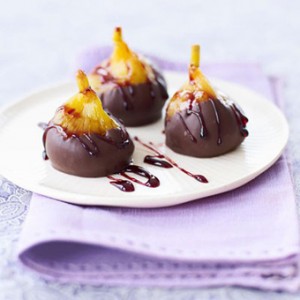 DRUNKEN CHOCOLATE FIGS from www.goodhousekeeping.com
1 cup ruby port wine
1/2 cup sugar
1 cinnamon stick
3 ounces bittersweet chocolate
12 fresh, ripe, green or black figs
In heavy-bottomed 2-quart saucepan, heat port wine, sugar, and cinnamon stick to boiling on high. Reduce heat to medium and cook 13 minutes, stir-ring frequently to prevent syrup from boiling over (syrup will reduce by half). Remove from heat and cool to room temperature (syrup will thicken as it cools).
Meanwhile, line cookie sheet with waxed paper. Place chocolate in micro-wave-safe small bowl or cup. Heat, covered with waxed paper, in microwave on high for one minute or until chocolate is almost melted. Stir until smooth.
With fingers, hold 1 fig and dip into melted chocolate, leaving top half uncovered. Shake off excess chocolate. Place chocolate-covered fig on prepared cookie sheet. Repeat with remaining figs and chocolate.
Place chocolate-covered figs in refrigerator 15 minutes or until chocolate is set. Figs will keep at room temperature up to 2 hours. If not serving right away, refrigerate figs up to 12 hours. To serve, arrange figs on 4 dessert plates and drizzle with port syrup.